MINI F-65
universal mobile trolley that is compatible with any display brand and model
MINI F-65 Display trolley is a motorised mobile floor stand cart for 32-95" displays and up to 65 Kgs of weight with 650mm electrical height adjustment; 2 lifting columns motor system with optional anticollision security function.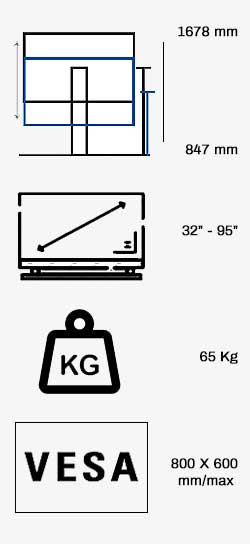 Display landscape installation only (not portrait). universal mobile trolley that is compatible with any display brand and model. portable and easy to move between rooms. clearance between the wheels of the floor base allows an easy wheelchair access.
Optional anticollision security system stops motor automatically when it finds any type of obstacle during the up and down movement. 3 meter long 3 socket-outlet with switch and cable management thanks to the use of an optional nylon drag chain. 
Optional open storage cabinet for any A/V device used in the installation.
Ask us for more information